I did a charity Gardeners' Question Time last night in aid of Wellbeing for Women in Alton.
Bit daunting at first as the other members of the panel were Alan Titchmarsh, Pippa Greenwood (who can recognise a scab or bug from 50 paces) and Helen Yemm (who writes a very wise column in the Telegraph and is charmingly dotty). However, all was well in the end: we had a jolly time, got some interesting questions (to many of which I even knew the answers) and the audience did not pelt us with canapes (which were, incidentally, of the highest quality). It also gave me the chance to loot Phoenix Perennial Plants who are just around the corner in Medstead.
Torrential rain on Wednesday caused mass overflowing of gutters and blocking of drains. Perversely, dealing with such things gives me immense satisfaction. To pull a handful of old leaves and moss from a gully has a wonderfully instant effect. In a twinkling all the backed up water gurgles gleefully away leaving one with a cold, wet arm speckled with detritus and goose pimples. We had a big gully blocked this week that involved my lying full length in a large puddle ramming away with drain rods. Well, it made me happy for a bit, anyway.
I am listening to Bell Hop by John Shakespeare (better known as the theme tune from Terry and June). Weird, perhaps, but such is the joy of iTunes on shuffle.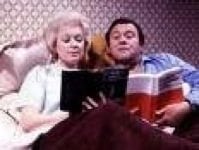 The picture is of decaying poppies and the flourishing leaves of Melianthus major.