Those of you who know me well will realise that I am quite a good natured fellow most of the time. Content to let life bob along happily while waving at passers by and admiring the view. I am not a chap that tends to get riled very easily but, this week, you find me a little miffed.
Not about anything of particular importance. I am not ranting, a la Colborn, at the various injustices of life. I am not about to launch into inflammatory political invective or voluble oratory in favour of anything much. I am just a little bit cross.
Why, you ask? (or would if you were polite folk – as I am sure you are – even if you were not even faintly interested). What has nettled you? Why are you irked,Jimbo? (i)
Well, seeing as you ask so nicely I will tell you: it is because of this.
Accuse me of having a ridiculously cavalier attitude to human life if you wish but I really cannot see why every electricity pole in the country has to have one of these. I drove down a lane in Leicestershire the other day and every single pole had a shiny sign, they stood out like livid pimples among the glories of the countryside. They are ugly and garish and I really do not fully understand what they are meant to achieve.
As far as I can work out, there are two reasons why anybody would want to climb a pole. Either to repair something or to nick something. If the former then one must assume that the technician involved is aware that he is mending electricity cables and therefore knows that they should be turned off before the pliers are wielded. If the latter then I think it very unlikely that the sign will dissuade anybody from their dastardly task. I doubt whether many people will climb one just to admire the view. Unfortunately a freak gust of wind removed the sign from the pole on my drive.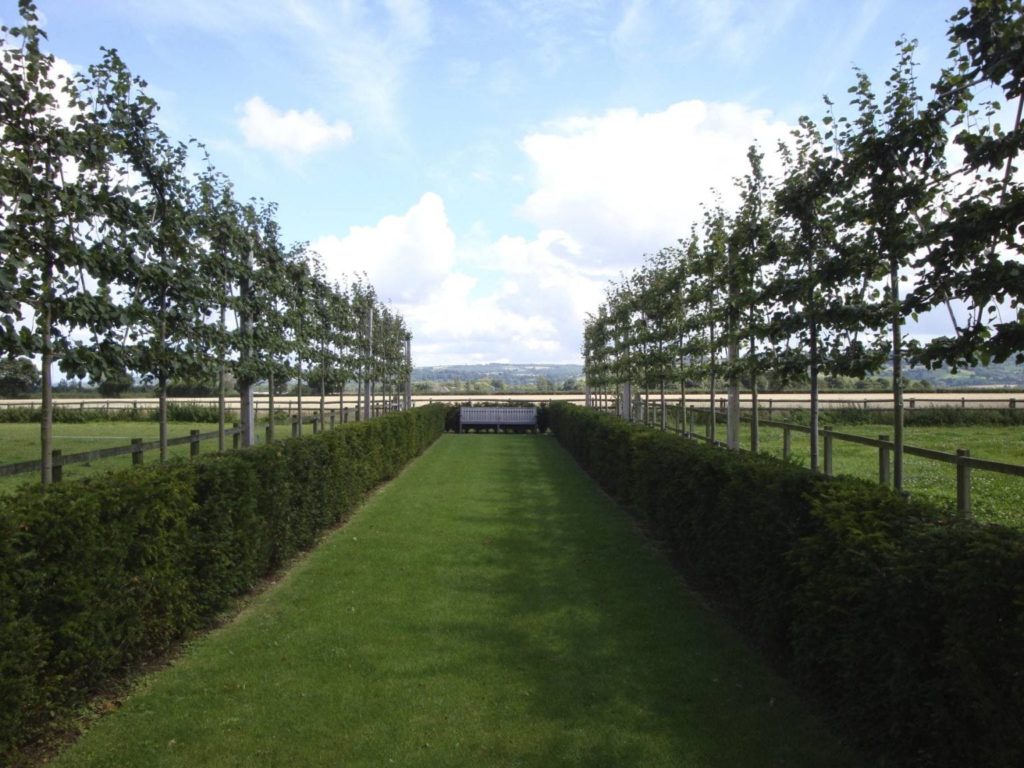 This is particularly galling as, while people are beetling around defacing the countryside with signs, I have just been refused retrospective planning permission for this. Which,I think, is a great deal prettier and less obtrusive.
There.
Enough Colborning. Let us instead talk a little about facial hair. Many of you will be already aware of this but bear with me…
I have had a notion which will almost certainly result in general ridicule and sniggering but may also mean that we will raise money to combat male undertrouser cancers (prostate and testicular if you want things spelled out). I, and I hope, many other Gardeners across the length and breadth of the realm will be growing a moustache during November. This is happening under the auspices of the Movember charity which was started a few years ago in Australia.
So. I would like to enlist your help. There are various ways in which you can rally to the cause.
Firstly by donating to the Team. In order to make things simple we would like as many people as possible to chip in a fiver which seems reasonable. Details are here.
Secondly by actually growing a moustache yourself-I realise that this excludes quite a large percentage of the population so have come up with a suggestion. Grow a cress moustache.Or grass, or alfalfa sprouts or anything else you can think of as an alternative.
Thirdly by sending in pictures of yourselves both pre and post moustache for us to post on Facebook (ii) and Flickr for the general entertainment of passers-by. Send offerings to tina@blackpitts.co.uk
Fourthly by spreading the word as widely as possible through your own address book, through Twitter, Facebook, leafletting the high street, flyposting, spamming, skywriting, tethered balloon or threats and cajoling. We are not very fussy. Just get the word out and the fivers flowing, please.
Fifthly by joining the team – this is open to all.
Does that sound jolly? I hope so. Currently I have moustaches promised by his vegetableness Mark Diacono, the noble Nigel Colborn, pruning impresario Richard Wanless, James Gladwin (who runs the Cottesbrooke Plantfinders Fair), photographer (and father of the Halibut) Jason Ingram and the most excellent journalist,dancer and Bon Viveur Stephen Lacey . All of whom who have properly declared themselves.
Also promised but currently too slothful to sign on the dotted is the steaming bowl of testosterone otherwise known as Matthew Wilson, Tom Hoblyn, Nick Coslett (of Palmstead Nurseries), Joe Swift, Andy Sturgeon, Phylip Statner and various others. I am hoping the list will continue to grow: probably more than our moustaches. We have also raised £75 without doing anything which is a good sign.
I have never even heard of Cleve West.
Also, I am lecturing at the Llanover Garden School: which those of you with even the most basic grasp of linguistics (or Llinguistics if you prefer) will have guessed was in Wales. It is on the 18th October and there are places available if you hurry. I am talking on the subject of Gardening Mistakes and Triumphs. You also get the eminent and entertaining Matt Biggs (he of Gardeners Question Time) who, just for a change, is not currently on a Caribbean cruise.
Final bit of news, I have started appearing on Gardenersclick where I am tarting around with a video camera talking about stuff. The films are mercifully very short and can be found here. The premise is that every so often I make a short film about something interesting around here. And then inflict it upon the public. I am enjoying myself.
The picture is of the Piccadilly Line steps at Kings Cross Underground station. I thought them rather musical.
I am listening to Goodbye Lucille by Prefab Sprout.
(i) Please bear in mind that while I will tolerate being called Jimbo, Jimmy or Jim-Bob in moderation I draw a line at being addressed as Raquel or Nobby.
(ii) I do not actually understand Facebook (although I have seen Social Network) but the page is there and is under the control of Mr Diacono. Complain to him.