I promised you new and possibly momentous news and I do not wish to disappoint the two blokes and a dog who hang around here waiting for something to happen.
It is very exciting. Although I have been fearfully disorganised/busy and should have published this on launch day a week or so ago. I feel a bit like the chef expounding about the flavour of the cake just after everybody had been distracted by the girl emerging from the top.
But I am going ahead anyway so please clap politely…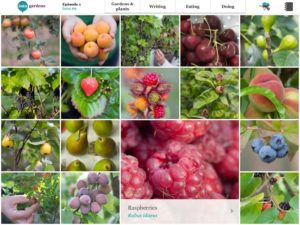 The news is a brand new, shiny and pretty innovative thing called intoGardens. It is a mixture of many things – sort of like sphinx or a manticore or the telekines, but much prettier. And with fewer bolt on animal parts.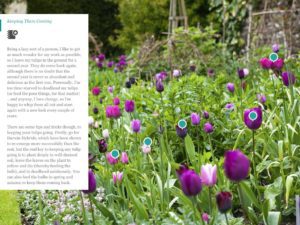 It is a mixture of App and magazine,website and game. It is something completely new and ridiculously gorgeous – and, although I must admit I am occasionally prone to exaggeration and the odd flight of fancy I do not think that in this case I exaggerate unduly. However, I will admit to a certain pride and parental bias.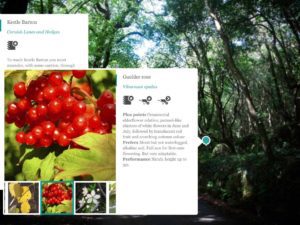 We have fabulous pictures, writing (from good people such as his excellency, Nigel Colborn and her magnificence Jean-Ann van Krevelen), gardens (one underwater, a couple in England and another in Elba), some fruits (including Mr Diacono), practical help (of both vegetable and ornamental varieties), soap operas, video content and audio book extracts. And you can buy stuff directly from within the App just by hitting a button. Whoosh.
Or Whoooooooooooooosh if you have a slow Internet speed.
It moves and talks and sighs romantically at you over lowered lashes.
This is, of course, not a solo effort as I have inveigled various gullible types to contribute and help out. Most notably Tiffany Daneff who is the editor, Ubinow (the developers) and Archie (my elder son) who is in charge of making sure all the assembled stuff is assembled in the right order. My thanks to everybody and, in particular, to the rest of my extremely tolerant family.
If you happen to have an iPad you should download it (for a mere £2.99) and if you don't then there is a film of what you are missing here. You are missing a lot.
It will be published quarterly for the moment. We also have impeccably groomed Facebook and Twitter feeds
I am sitting on a bus travelling between Seattle and Vancouver while watching a film called Too Many Crooks which stars Terry-Thomas, Sid James, George Cole and Bernard Bresslaw. Terry Scott (as in Terry and June) has a short role as a plump policeman and Nicholas Parsons is a Tax Inspector.
(i) The backyard musical was a popular genre in the 1940s. Most of them starred Mickey Rooney and Judy Garland. Tupically a bunch of kids need to raise money for some good cause. They are let down by some impresario at which point one of them says "Hey, I got an idea. Let's do the show right here!"
There is then much rushing around transforming the horse barn/old shed/school hall/whichever into a theatre and then they put on a show which is received with tumultuous appreciation and it all works out just fine. In Strike up the Band , for example, which culminates in a Busby Berkeley Conga.
There may be some chaste kissing as well.
At intoGardens we hope for all these things.