Spent quite a lot of time this week rejigging my website with my very old friend Mad Harper. The process is that I send her endless emails full of photographs and slightly confusing contradictory instructions, she gets a little panicky because she should be playing poker or lying on the beach (she lives in Spain) and, in the end, all is well and everything looks lovely.
At least, I think so and hopefully any visitors learn whatever they need to know to give me more work (which, after all, is the point). It will also be the first public airing of this Blog: I somehow have to doubt that it will either, shake the governments of the western world or even mildly titillate the accidental browser by its revelations but you never know.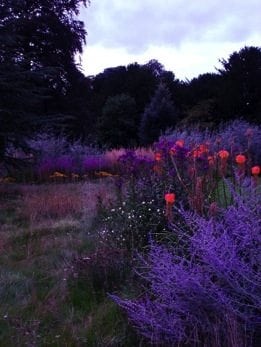 Also spent time at one of my favourite gardens. Caversfield House is near Bicester and we have done some slightly odd things there – the clients, Daniel and Judy, are up for most things.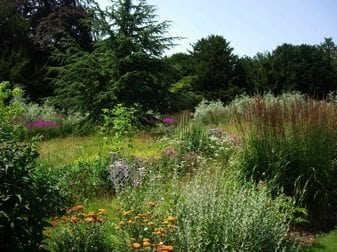 Most of the planting is is 5' wide snakes that flail around the lawn with the grass in between allowed to grow long and wild blurring the difference between wild flowers/lawn weeds/grass and planned border. I think it is very exciting – shaving the line very thin. Okay – I admit to tweaking the colour balance on the right hand picture – it happened accidentally from pushing something. It does something special to the Perovskia.
We were putting together an unique set of oak gates made out of an irregular palisade of planks.
Even more exciting my sparkly new 20" iMac arrived – concealed in a very shallow scraping below my skin lies the heart of a closet computer nerd, I'm afraid. I go weak at the knees every time Apple bring out a new piece of kit – techno porn at its most depraved and compulsive. Also bought a new camera at the airport).
The picture is of dead poppies and Monarda. I am listening to My Favourite Kiss by Frank Black and the Catholics.