I know this is a very dull thing to say but I am jolly well going to say it anyway…
My goodness, how time flies past.
Another year, another Garden Media Guild shindig under our belts. This year, as you may already be aware, Three Men were officiating. We made a short film and then tarted about for a bit which is always a jolly a way of spending an afternoon. As you are also doubtless well aware, Mark Diacono won three consecutive awards which was very gratifying. If you like that vegetably sort of thing.
I managed to stick a piece of paper on his back saying "Kick Me" and noticed Lia Leendertz sharpening the toe of her Jimmy Choos as I left.
There was then the usual drunken shenanigans in the pub where the usual suspects fell over to general hilarity. If you are interested you can watch the whole ceremony (apart from the falling over bits) here. As always it was a very jolly occasion with a lot of moustaches in evidence. Movember is now over and we have raised a shade over £20,000. I am terribly proud of everybody: we exceeded my wildest expectations. At the beginning I just thought it would be quite fun and we could raise a few hundred quid, thank you to all who participated and especially to those who coughed up the cash. I made a short film to commemorate the occasion, the music is by Nick Riddle who snuck into our team with fraudulent bonafides: he is not a gardener but we forgive him because of the excellent whistling and faraway look.
Apart from all this glamorous swanning about at awards ceremonies and growing whiskers there has been work going on: well, if you count wandering around looking at rocks work. These are very big rocks and there are lots of them: the reason is that we are rebuilding a quarry.Let me explain, in one of my gardens is a big scrape in the ground – about 35 feet deep at its steepest – which used to be a quarry. The idea is to make it look sort of quarryish again by reinstalling big lumps of stone which will then be interesting to climb on and could be planted with ferns, trees and general stuff.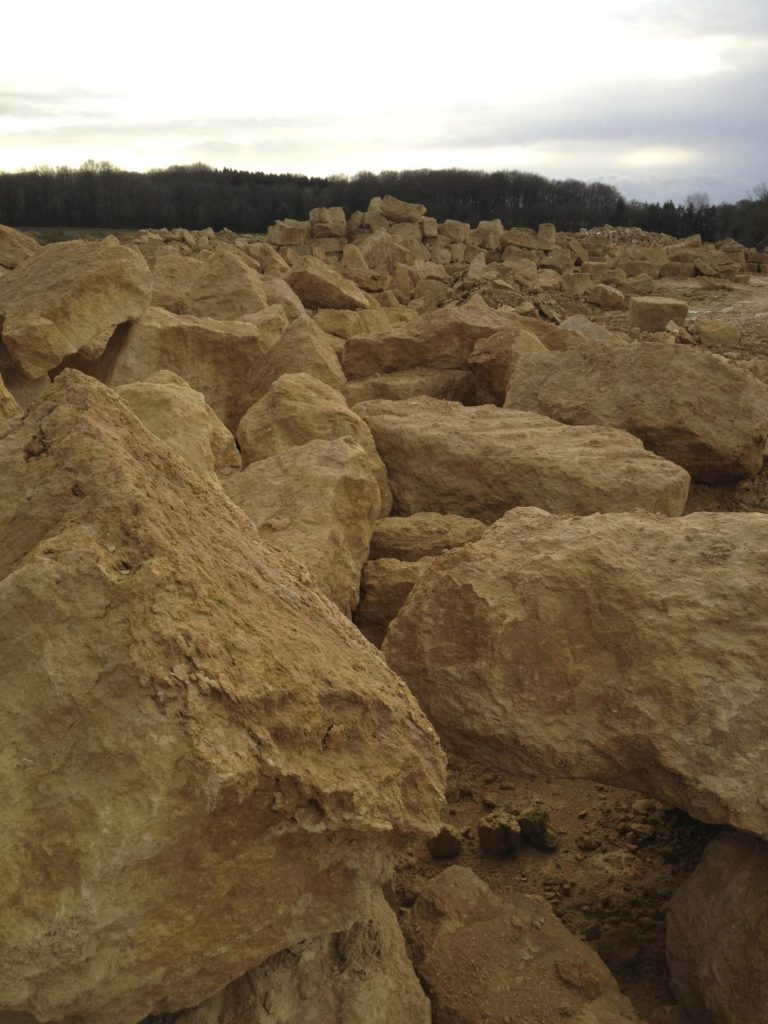 So Tuesday found me wandering around a vast site in Oxfordshire choosing monster rocks. I do love this sort of thing, I come over all Tonka truckish at the sight of large diggers and deep mud. Which is quite odd as I have never been very interested in cars, I had Dinky Cars but was never much of a Brrrm, Brrrm kind of child. I am left unmoved by Ferraris and Formula One but get very excited by a large digger and a deep trench. Anyway, we chose a selection of rocks which are now being slowly transported across to Gloucestershire, doubtless much to the annoyance of the traffic on the A44: my apologies if you find yourselves stuck behind a straining tractor.
I have also been to the RHS Garden at Hyde Hall. I had never been before and, now I am responsible in some small way for its upkeep, thought I had better show my face. It is the newest RHS Garden and is very much under development (there is a handsome newly dug lake), lots of trees are being planted, borders hewn from fields, the Dry Garden is being extended and new car parks built. I may not have chosen the best day for a visit as it was markedly chilly. The wind howled across battering the collection of christmas trees decorated by local branches of the WI which stand amongst the borders: I suspect that tinsel will be being picked from trees across Essex for months to come. Still, it was interesting and bracing and we got turkey for lunch. Oh, and the best bit was the live willow weaving. They have groups of pollarded willow in the borders that have been bunched together and tied into various shapes: very effective and sculptural.
Before you go, here is another film: this was made by a very clever fellow called Sebastian Solberg about Jeremy and Camilla Swift's extraordinary garden in Wales. I arrived there after going to a memorial service (hence spiffy tie) and was immediately sat down and required to spout stuff. It is an extraordinary garden varying from pretty orchards to ruined hovels via high Classicism, steep woodlands, theatres, turtles and the Kingdom of the Moor. It is open for the NGS at some point: but for goodness sake, take a raincoat, it is Welsh Wales, after all.
I am listening to Wild america by Iggy Pop. The picture is of the aforementioned willows at Hyde Hall.