As regular readers – although I will admit that the readers are almost certainly much more regular than the writer- are probably aware we moved house a couple of months ago and are currently installed in a small damp cottage while solicitors hesitate and faff over the conveyancing of our new house. It has not been an experience that I would recommend to any of you.
However, there is light at the end of the tunnel in that we do at least have a probable destination and the prospect of a project. It has given us something to look forward to – I was going to post a picture of said house and potential garden but fear that that would be a little foolish before the deal was finally finalised. Finally.
So that is a pleasure that will have to wait a little bit. Sorry. You'll like it when the moment actually comes, I promise. It is a very nice house with a rather different garden to Blackpitts.
More leaves.
Less colour.
Maybe.
Since I last wrote this blog other things done include, apart from the hell of actually packing up twenty years of live and moving…..
Designing some gardens
Writing sundry stuff for the nice people who ask.
Visiting various gardens (including a particularly fabulous one in Wiltshire – see above).
Sat on assorted RHS committees. Some fascinating and some not quite as gripping..
Filmed a four part television series for the BBC – which we expect to transmit in about January. It also features Joe Swift and Ann-Marie Powell. I think it may well be quite good.
Gone to Bordeaux – very lovely.
Gone to Cornwall – ditto.
Been to see Kate Bush – who was organised by my very clever sister.
Gave a lecture among the dahlias at Kelmarsh Hall.
I have introduced young Mr Titchmarsh to an audience brimming with middle-aged zeal at the Cheltenham Literature Festival.
Eaten half a turbot at Sheekys.
Ordered a handsome tweed jacket.
We have produced another episode of the very delicious intoGardens iPad App, Winter 2015. It contains a whole raft of rather wonderful things including Cleve West hanging around the desert at Joshua Tree, Allan Pollok Morris on the newest stretch of the High Line in New York, Catharine Howard whistle stopping around some Italian gardens, Andy Vernon camping it up in Chicago, pink flowers, seventeen stories of remarkable trees written by some very eminent people, and introduction to Twiggery. (ii)
I have been enjoying the Boston Ivy (Parthenocissus tricuspidata). For twenty years I thought it was Virginia Creeper (Parthenocissus quinquefolia) but this year I looked closer and realised my mistake.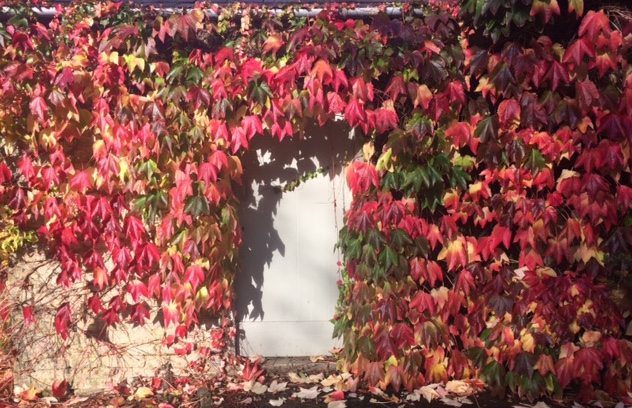 Right now this minute I am sitting on RyanAir flight 667 to Dublin. I have written before about RyanAir and their general ghastly dreadfulness and nothing has got better in the intervening years.
In the Seventies I used to travel up and down the country – mostly to parties at various country houses, to some of which I even had an invitation (iii) – by National Coaches. I am sure that nowadays they have all mod cons: lavatories, wi-fi, hostess trollies and antimacassars. In those days they had nothing except seats and the only comfort was an ashtray in the smoking section (the rear seats on, I presume, the assumption that if one was moving forwards then the exhaled smoke would be blown backwards). The journey was interrupted at various service stations for toilet stops and cups of tea. Quite often, if travelling after a rough night, I would fall asleep on my neighbour's shoulder and, on one particular occasion, dribble on their jackets.
My point is that RyanAir is very like an airborne version of those 1970's coach services.
Part of my distaste for RyanAir is that, almost from the moment of takeoff I find myself bracing for the almost inevitable self congratulatory fanfare and that annoying voice trilling about how many flights are on time. It is almost worth wishing for a delay.
I digress, I am in Dublin to give a talk to almost all of the horticultural students currently at college in Ireland. When I say "a talk" I actually mean "two talks" as they cannot all fit into one lecture theatre so I have given the lecture twice, back to back. Needless to say everybody was delightful and I also fitted in an early morning walk along the pier at Dun Laoghaire and a handsome bit of hake.
On the flight back my foolish wish not to hear the RyanAir "We love ourselves because this flight is on time fanfare" came true as the plane was an hour late.
Be careful what you wish for, people.
The picture at the top is of a hairy begonia leaf. I am listening to Burnt out Town by Tom Petty.
(i) Allow me, for the benefit of those of you who are not yet aware, to explain the Twig. It is a little snibble: an article exactly one hundred words long written on any subject at all for the intoGardens website. They are fun to write, easy to read and anybody who wants to have a go should send me a Twig.
(iii) There was a time when I was very good at gatecrashing parties: even parties at the other end of the country. Such dedication to the wholehearted pursuit of whatsoever happened to available for pursuit was exhausting.