I have been driving for about eight hours today and my buttocks ache.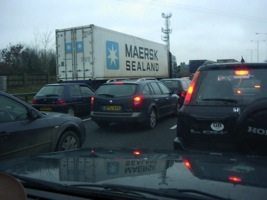 Perhaps you didn't need to know that but I had to tell somebody. Northamptonshire to Hastings is not a short hop especially when lorries shed loads of steel poles all over the M25. Hence I spent well over a hour looking at this view – which is not only dull but stressful to the bladder.
Still, Hastings is well worth a visit. I had never been before and it turns out to be a very pretty town with just the right mixture of picturesque houses, small streets and garish amusement arcades. For those of us who live darn close to the geographic centre of the country it is always a bit of a thrill to glimpse a bit of seaside – no matter how grey the sea or how leaden the skies.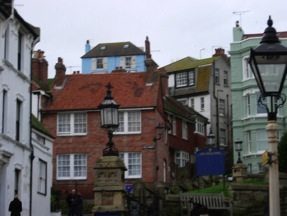 I went to see a great job – seaview, charming people and an almost unscaleable slope that needs sorting out – one of those slightly scary jobs involving much lateral thinking and fast talking. It will be both intriguing and exciting.
Anyway, I've had enough for today (did I mention that my buttocks hurt? Yes?- okay, as long as you know.) I'm not listening to anything except the gentle hum of the boiler and the picture is of a rather lovely sycamore root insinuating itself into the affections of a cliff (courtesy, Hastings).