Have just been invited to appear in a sort of Gardeners' Question Time thingy next autumn in Alton for a charity called Wellbeing in Women (sounds rather dreamy – Autumn in Alton – I should probably accept).
I have also had a lot of conversations today with the very lovely Nina Acton who runs the Malvern Spring Show (May 11th-14th). Malvern is the first big flower show of the year and in the most beautiful surroundings. I have been there for the last couple of years and will be there for all four days this year. Last year we introduced a big theatre where I was joined by Alan Titchmarsh, Joe Swift and Chris Beardshaw (picture left – I am the scruffy one, Chris is the wise one giving out handy tips).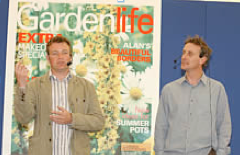 Joe and I had a fantastic time interviewing the designers and growers and intend to do it all again this year. However, we all got so overexcited last year that Malvern now has an extra day -Thursday – and we are going to put on a debate. What form exactly that will take remains to be seen – but whatever happens, 'twill be well worth attending. Aside from all these theatrical shenanigans there is a vast floral marquee, show gardens and a new feature called "Borders without Gardens" where students design and plant a border. Details will follow.
Steve has removed the steps to both my office and the kitchen door which seems a little alarming. It is, however, one of those things that has needed to be done for about a decade. When we built the house I built some things very quickly using whatever was lying around – this worked well in most cases but the office steps are too high and the slabs are disintegrating. So where there were two steps there will now be three.
It has just dawned on me how exceptionally dull that photograph and the last couple of sentences are, I apologise and will stop that train of thought immediately.
How can the rebuilding of my office steps be a suitable subject unless I am trying to write the world's dreariest blog. In fact I wonder what is the world's dreariest blog – perhaps there should be a prize. There is a place that claims the title at http://www.wibsite.com/wiblog/dull/ but as it is intentionally dull then it may disqualify itself. I don't know where to look for blogs – if anybody ever reads this and knows, please tell me.
Do you think this entry is too long?
Jarhead is a very good movie. Great performances (especially Jake Gyllenhaall and Jamie Foxx), fab photography and a very zippy soundtrack. At this precise moment I am listening to "Raindrops keep falling on my head" sung by B.J.Thomas – which is a little embarassing but honesty is all. The vulgar photograph is a ripening Phytolacca seedhead.