I am back in Birmingham airport where the cost of car parking is positively criminal. I have written before of my troubled relationship with this airport here. Today I cruise through security and am off to Belfast. I h
I am here to sticky beak the new Horatio's garden at the Musgrave Park Hospital. It is designed by the excellent Andy Sturgeon and is edging its way to completion of the hard landscaping. There are pods and greenhouses and a huge entertainment area where film nights, Boccaccio games and disco dancing are being planned. I have an Uber driver called Adonis – no obvious connection to the devastatingly handsome young man from Greek myth who died in the arms of a weeping Aphrodite
From there I get on a very swanky train (accompanied by a vegan flapjack of dubious quality) that runs from Belfast to Dublin. It is fast and comfortable and generally uneventful. Tipped out in Dublin I then wend my way to a hotel which looks marvellous on her website but whose reality does not come up to snuff.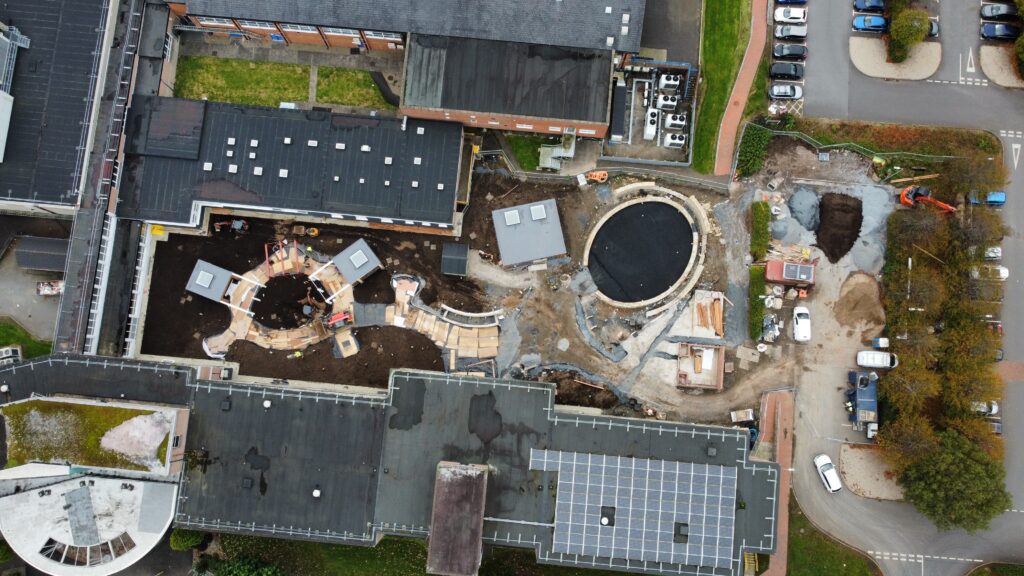 It is squeezed between a railway and a canal and all the rooms are in the basement and therefore underwater! I fling open the curtains and instantly regret the impulsive gesture as the curtain falls from the pole. The view is of a ten foot wall dripping with water. It has shiny cushions the colour of Quality Street Brazil but chocolates, mould on the walls, rust in the bathroom and a carpet that feels as if it contains a layer of Parmesan cheese just below the surface,
As if that was not enough it is noisy and the restaurant has been closed for six months which comes as a bit of a surprise as that was not announced on the website. So no food except for a tantalising vending machine that doesn't work – I am millimetres from a Boost Bar, some Dairy Milk (and incidentally, some shampoo and s bumper pack of Durex – anyone who regards this place as a romantic location requiring condoms is, in my opinion, both misguided and a little perverse.)
I wake indecently early and wander around the canal as the sun rises. The locks are spectacular in the gloom but it is very busy – trains whizzz by, there is an aqueduct and the M50 above my head. Bargees are waking up, swans mooch and a collection of very sturdy Irish rats scutter around. I get an email from Booking.com inviting me to review the service – I am waiting until I feel very curmudgeonly and then I will let rip.
Finally we (Matthew Lee, the head gardener in Belfastand I) drive off in search of breakfast which is fine – although the sausage is a little flaccid which is never ideal. We like a bit of turgidity to our bangers.
Fortified we go off to deliver the David Robinson Memorial Lecture to 250 students. All goes well and we lunch and trot off to look at various research and teaching projects – mushrooms, hydrangeas, peat substitutes and vegetables.
Back at the airport I realise that I am very tired indeed. I eat noodles and chocolate and watch the rain battering the windows. We trail into the plane and I write this and watch That's Entertainment 2 while we wait for a takeoff slot – it might take a while as one runway has been closed due to boisterous weather.
Buckle up people, it may well be a bumpy ride…..
The picture is of a rogue dog rose shaking its hips and I am listening to Lucinda Williams' "Wild and Blue'.