Okay. So there has been a huge gap since my last entry – not that anybody has actually noticed. This is now the cold and miserable Chelsea week – how very English. Lots of talk about droughts and just as people began to take it seriously we get a wet May and it all becomes a joke.
Chelsea was fun although I have a few problems with the show. Firstly it happens at the same time of year every year which means that (inevitably) the same plants are used every year – we know exactly what we are going to see before we get there. Secondly it all seems much more competitive and the quest for a Gold Medal seems much more important. The Sponsors expect nothing less – which is, I suspect, one of the main reasons why Cancer research changed designers – and the danger is that designers then design to a medal winning formula rather than concentrating on originality. Sometimes I feel that they are too afraid to try anything too outrageous because they know what the RHS is after.
That said I was very taken with Cleve West's SAGA garden, Tom Stuart-Smith's Daily Telegraph Garden, Andy Sturgeon's Cancer research Garden and Chris Beardshaw's Boveridge House recreation. There were others but I was too cold to remember.
Other exciting things to have happened since last time I wrote this…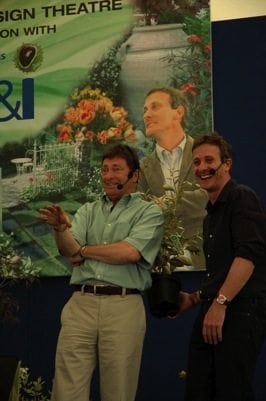 Malvern Spring Show – which is always my favourite – mainly because the exceptionally lovely Nina Acton (who is the marketing manager and one of the few exotically blonde Russians in rural Worcestershire) tends to allow me a relatively free rein. As a result there is now a very wonderful theatre set amongst the show gardens around which I am allowed to cavort for four days.
This year we had an erudite debate on the Thursday where Andrew Wilson, Erik de Maeijer, Jane Hudson, Julian Dowle and Roddy llewellyn debated whether "British Garden Owners are ready for modern design". The answer – which surprised me -was a resounding Yes. Friday was Alan Titchmarsh day which is always exciting as the theatre is positively packed with heaving matronly bosoms and enthusiastic gardeners. Alan is very entertaining especially as he is never quite sure what he will be expected to do until he actually walks onto the stage.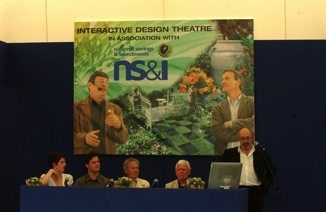 This year I organised a sort of Ready, Steady, Cook thing where he had to make two borders (one sunny, one shady) from a slightly random selection of plants. We had a very jolly day.
Saturday and Sunday are Joe Swift days where we interview the designers of the Show Gardens and also some of the Growers from the Plant Marquee. Joe sits on the stage and asks sensible questions while I tend to roam the audience – seems to work and we have a ball. It is an experience unique to Malvern as no other show has a theatre and no other show gives stage time to Designers and Growers. Sunday was particularly
thrilling as the exuberant ladies from the Floral Art (Flower arranging to most of us) area came on stage to give Joe and I coaching. He did traditional while I did Avant garde – he won the competition with a tasteful arrangement of lilies but my daring and experimental creation (entitled Motorway Bridge on the M5) was artistically triumphant.
Lots of other stuff has happened – lecture in Huddersfield (at Armitages Garden Centre), judged the Garden Photographers Association competition (www.gpoty.co.uk), lots of work etc etc etc.
Will try to be more attentive. The main picture is of emerging larch at Mount Stuart.