This is my day today:
Feed and open up chickens
Empty bin and at contents of paper shredder onto compost heap
Walk round the fields with Celestria and dogs
Eat porridge (half water,half milk,spoonful of honey and a banana)
Tina (my office person) arrived and did useful administrative stuff.
Sorted some photographs for soon-to-be updated website
Designed a pair of wooden gates for a client near Newport Pagnell and emailed sketch off to be priced.
Tina left.
Eat two dates and a banana for lunch.
Decide to go to Gardeners World Live so drive to NEC Birmingham.
Look at gardens – some of which have merit, many do not.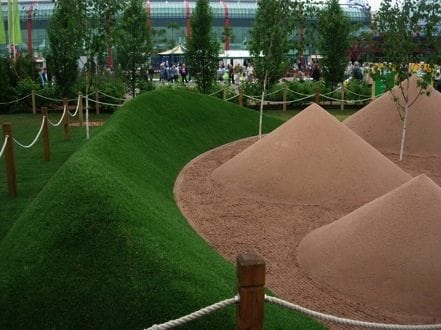 Admire Alan Gardener's piece of land art (although I am still to be convinced by the colour of the designer's nail polish) and the "Mrs Miggins wondered what on earth was eating her lupins" garden which featured a flock of metal velociraptors, a stream and some pretty planting. It was designed and built by Jody Lidgard and Chris Cox. They were finalists on the Great Garden Challenge last year where they were known as the Pie Boys (if you saw them you would know why).
Marvel at the strange way the RHS come up with medals sometimes.
Loaf around discussing life with Joe Swift and eat cake with Monty Don.
Admire Matthew Biggs in his shorts
Drive home through sticky traffic.
That's as far as I have got so far……
I am listening to Simple Twist of Fate by Bob Dylan and the picture is of a vigorous poppy/paeony combo (with slightly vulgar seed head).