Well that was a jolly jape….. Chelsea Flower Show, I mean. It was fun, interesting and only slightly stressful. At least the garden designing bit was relatively straight forward – the judging bit was considerably more eventful!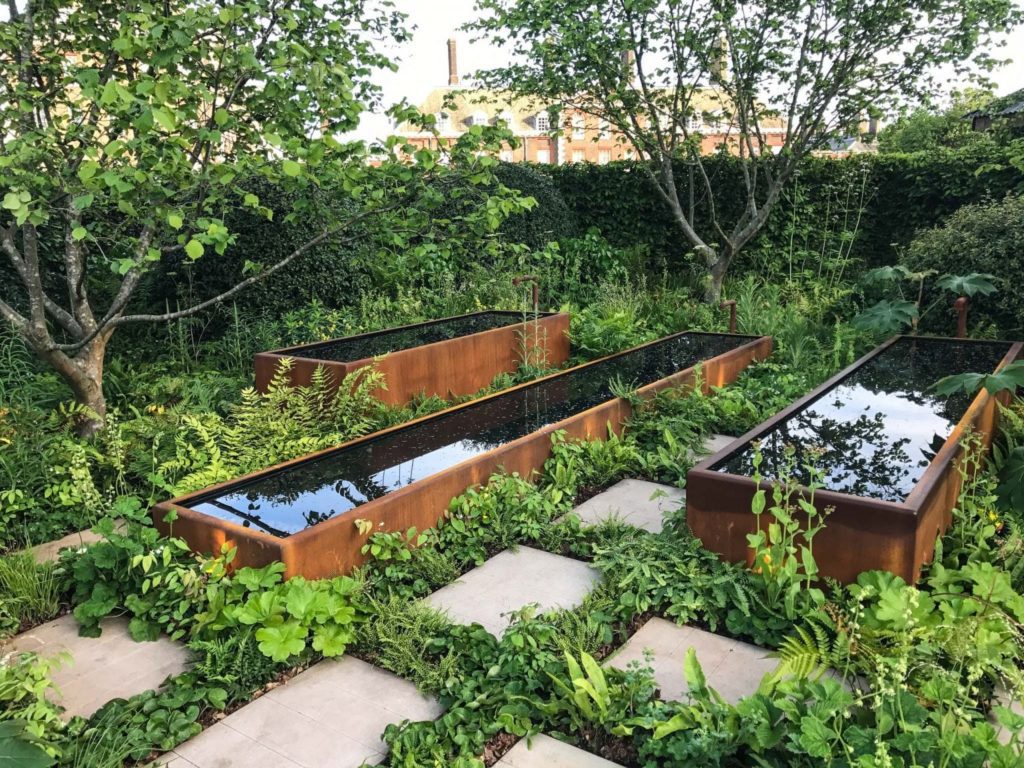 Eighteen years ago I did a Chelsea show garden for the Daily Express. This was before it became a complete rag but after its glory days as the voice of middle class post war respectability. The circumstances were strangely coincidental and unplanned – the short version of the story is that we used to rent a room to people wanting somewhere to stay for the Silverstone Grand Prix.
As a result in 1998 I found myself lolling on the lawn chatting to a chap who, it transpired, was the editor of the aforementioned rag.
"You do a garden at Chelsea don't you?"
"We do" he admitted- they had done one for many years at that point.
"Can I do next year's?" I enquired
"Okay" he said
And that was pretty much that…
So I did a garden in 1999 which I liked (although the judges did not) and was the last time that the Express ever sponsored anything at Chelsea
Whether this is a coincidence or not is for others to decide although, to be honest, I have a bit of a track record when it comes to prematurely ending things. No television series I have contributed to has ever been recommissioned and there is an argument that I may have killed off makeover television programmes. An act which some would see as a blessing …..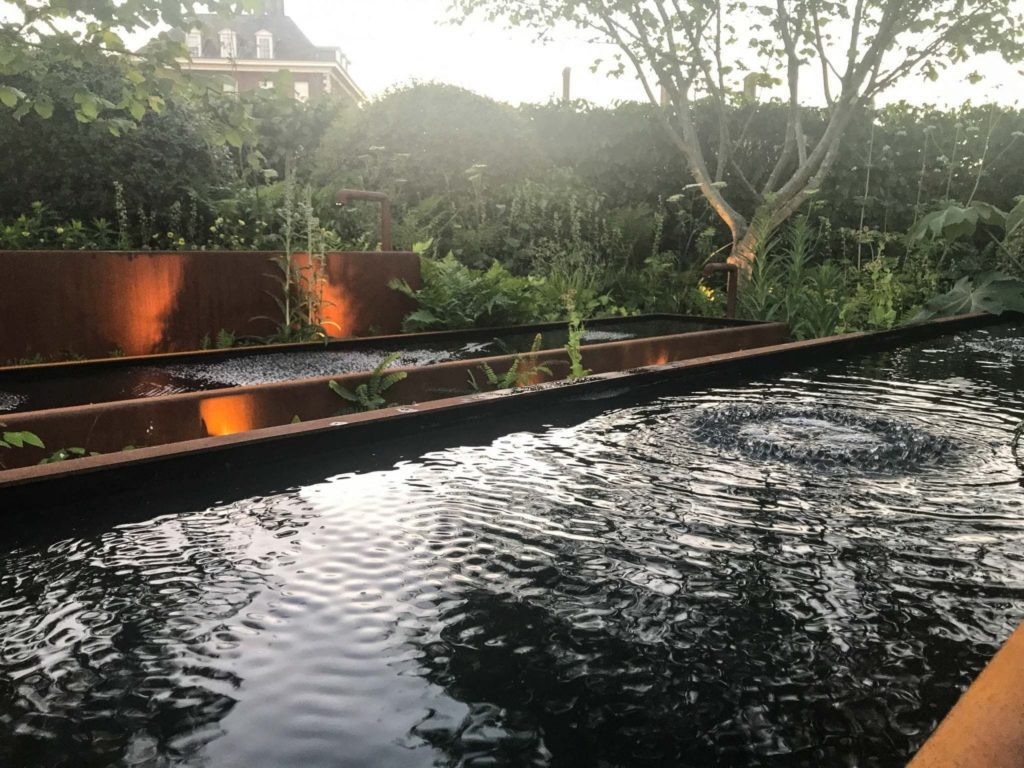 Anyway, fast forward eighteen years and the telephone rings at the end of March(ish).
"Hullo" ring out the youthful tones of Tom Harfleet, Chelsea Show Manager, Head of Shows Development at the RHS and general good oeuf
"Hullo Thomas, what's up?"
"Would you like to design a Show garden for Chelsea?"
"This year?"
"Yes. Unjudged and sponsored by the RHS and Radio2 "
"Let me think about it".
"Okay. Bye"
Click.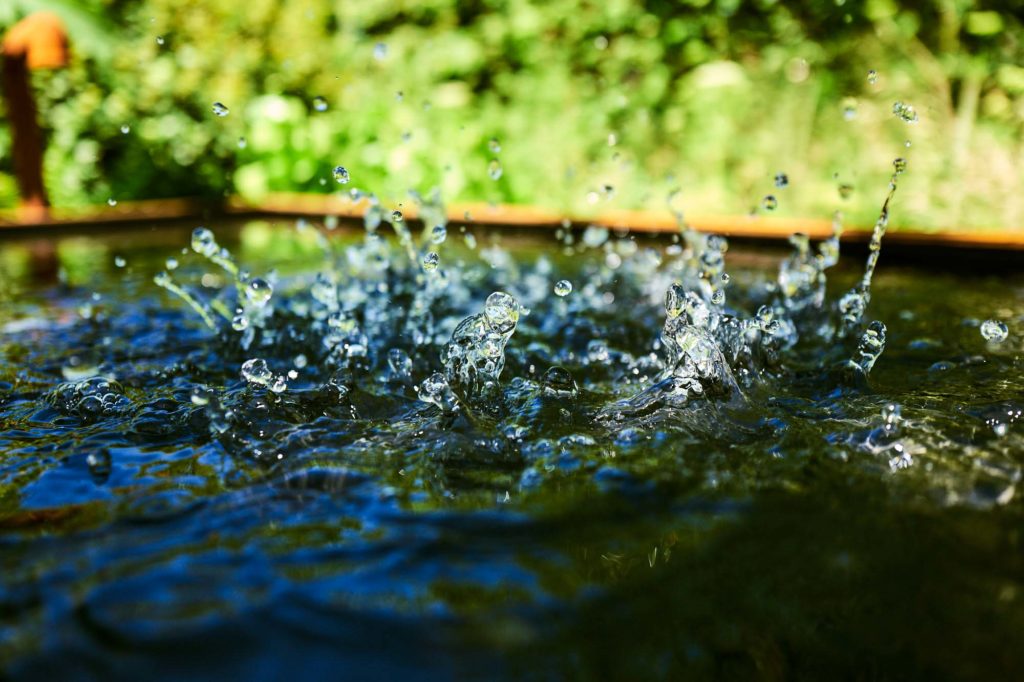 Time passes as I consider the situation, weigh up the pros and cons, examine my diary, consult my office and family, evaluate the time required, make lists and generally consider my options. I am playing hard to get…
Twenty minutes later I ring back and say yes. As a result I have found myself designing and sorting a show garden in double quick time. Actually a lack of lead time concentrates the mind admirably and means that there is less time for worry and everything is more spontaneous. The initial plant list consists of me wandering around Hortus Loci seeing what looks good, the hard landscaping is minimal and I found some admirable trees in the back lot at Crocus. The garden's official title is the Zoe Ball Listening Garden I think it turned out okay.
Actually I am being uncharacteristically modest- it was fabulous: it was a garden about sound where you could see and feel the music but not hear it. There were speakers underwater that made phenomenally beautiful patterns and speakers under the ground that made the earth shake. The visitor put a foot on the gravel and felt a vibration shudder up their leg in a way that was not entirely relaxing. The planting was green and lush – the general idea was to create a mildly sinister woodland glade… Of course no Show garden is a solo effort so my thanks to Rossana, Seb and Pår for sound, to Fiona Silk for drawings and project management and to Humaira, Steph and Frank for planting. Also to all the lovely people who stood on the garden during Show week giving out leaflets and getting hot.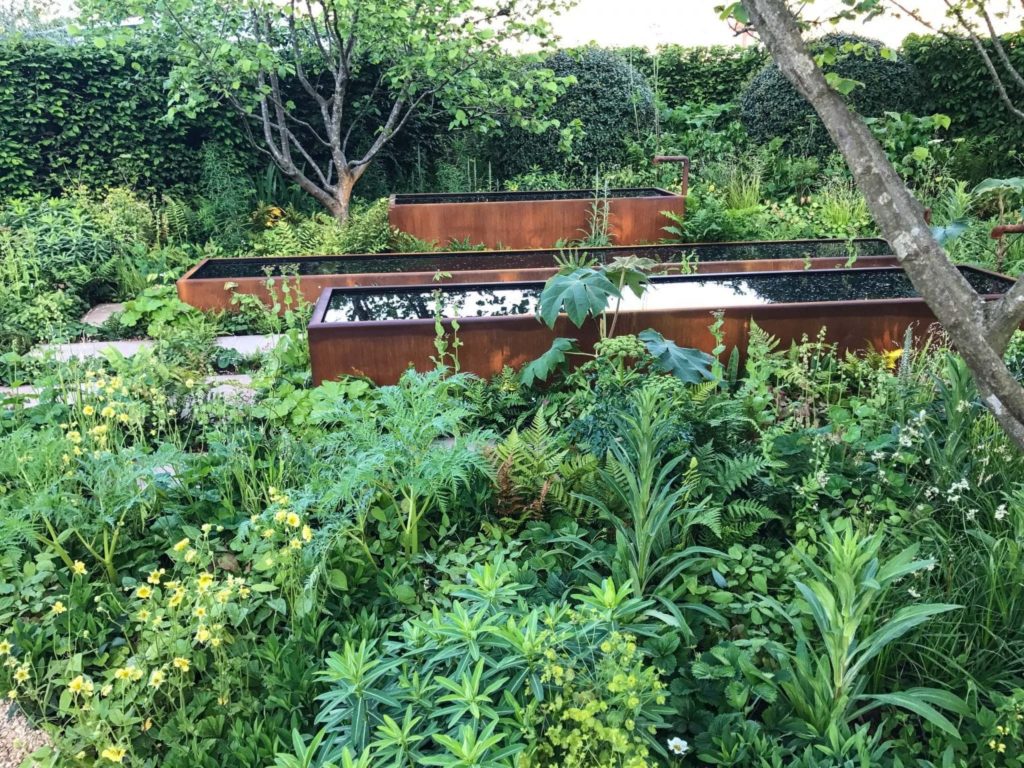 My favourite review of the garden is from the Shanghai Daily who said
"At a garden nearby, cabbages and salads are arranged in neat rows to "recreate the feeling when you stand too close to a speaker stack at a concert — the sensation of music reverberating through your whole body," said designer James Alexander Sinclair." Now that would be something….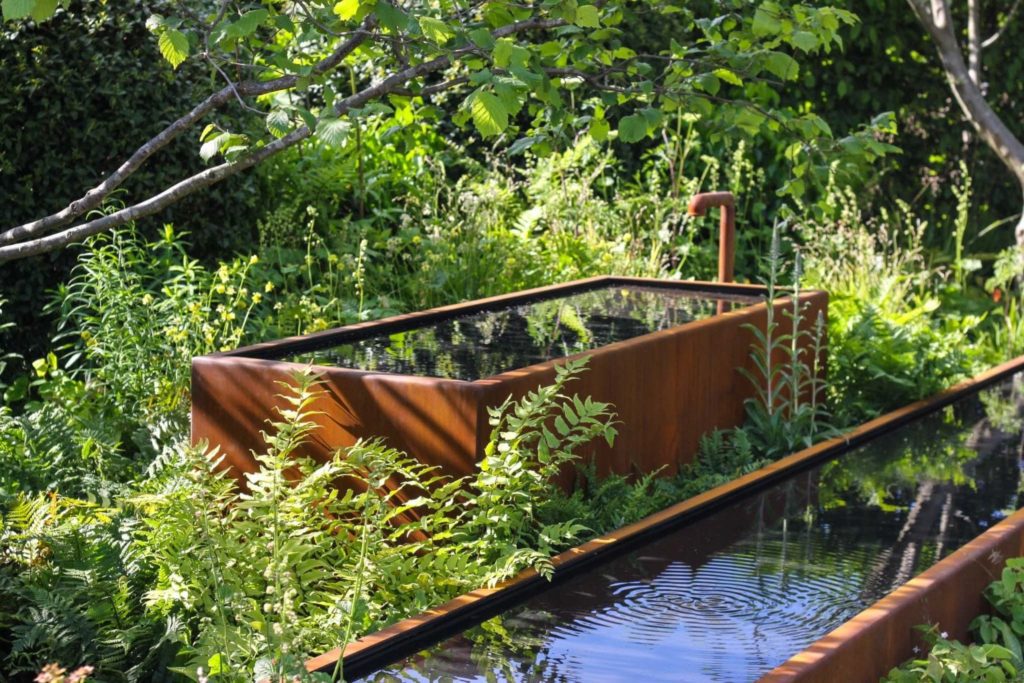 But all things must pass and now it has disappeared into memory. Who knows how long it will be until I do another show garden?
In 18 years I will be seventy-five so it might be sensible not to wait that long.
I am listening to the rooks in the garden.