Hullo. I have decided to venture into one of the dustier corridors of my life – this blog. Time was when I used to check on its progress every day, I would write regularly and comment on other people's stuff. This was in the heyday of the blog but, as most things in the modern (or indeed ancient) world things move on and we all now spend more time on social media than wading through blogs.
Still, it advertises itself on my website and therefore it is important to update these things occasionally. I have noticed that most of my posts over the last couple of years have been about travel. I have been lucky enough to swan around the world looking at and talking about gardens. Obviously that stopped a year or so ago – soon after I came back from Seattle where the North West Flower and Garden Show was probably the last (1) flower show before the world ground to a halt. Now we are slowly emerging, blinking like naked mole rats, into the light of normality. I have been very lucky in that I have not stopped working and, indeed, have become ridiculously busy as people spend more time at home and decide to do something about their gardens.
So today I have decided to go on a public transport jaunt…
04:50AM: The alarm goes off and I stumble out of bed. An apple in one pocket, a banana in the other and I am out into the cold morning. Unseasonably icy but bright and beautiful.
06:15AM: Milton Keynes station as I am catching the 06:23 train to Glasgow. Day trips to Scotland are something I have been doing for ages but there are very few aero planes at the moment so train is the only option. Four and a half hours each way but the views are interesting, the trains virtually empty and, because I am old, I get a special deal on first class so things could be worse.
And I am going to Glasgow to see my Horatio's Garden and that is very exciting.
06:45AM: I have been given a breakfast box and a cup of coffee. The latter is pretty disgusting but better than nothing. The former contains two doughy croissants (the sort of pale imitation that would drain the blood from the ruddy complexions of the Parisian guild of boulangers), a yoghurt and some cheese spread.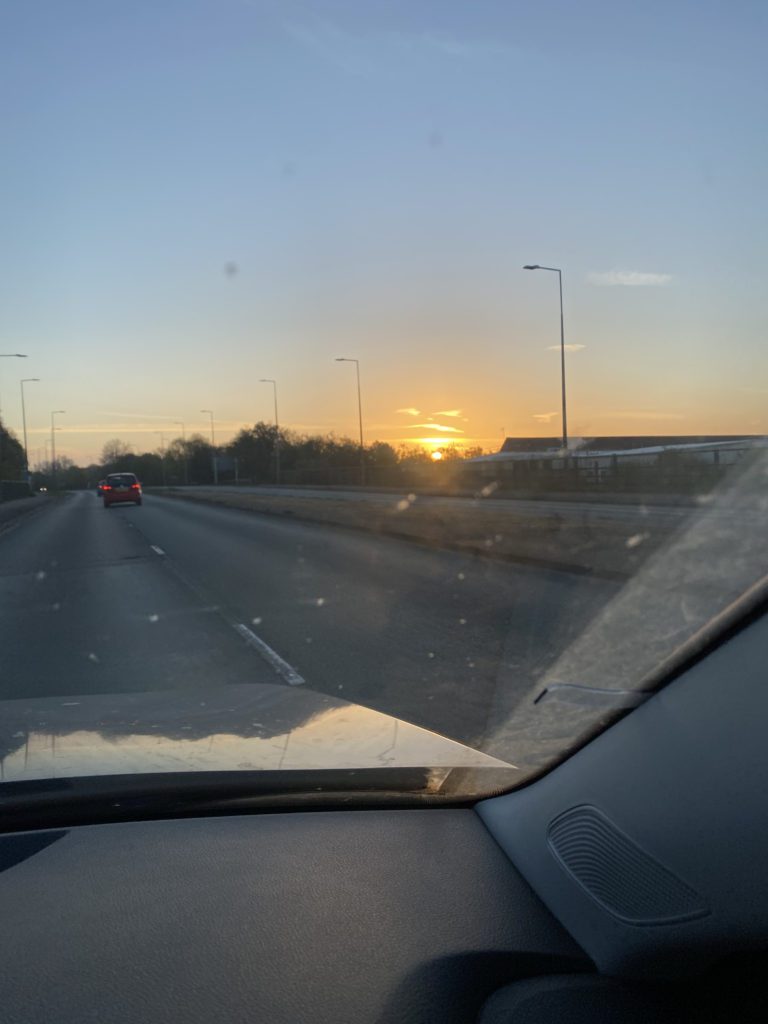 08:04AM: I should be working but instead am writing this as we hurtle through Crewe and whizz past Warrington Bank Quay
08:48AM: Drawing on a train is really shoogly. The train manager is making frequent announcements in a Glaswegian accent as thick as a slab of black bun (2) which makes the message (that we are six minutes late) difficult to fully comprehend. Outside the window the Lake District is sparkling. Sheep, drystone walls, the River Lune and the picturesque open cast Kendal Mint Cake mines.
09:30AM: Carlisle. We always used to stop here on the way to visit my grandparents in Scotland. The most exciting thing was a bakery that sold bright green, mint flavoured meringues. They were laden with artificial additives and were probably revolting.
09:52AM: The novelty of this journey is wearing off mostly because the train is swinging around and is making me seasick. We are in the borders where there are far too many conifer plantations. Dark and depressing when growing, worse when harvested.
10:36AM: The edges of Glasgow are never terribly alluring but the station is a good one. Quite odd though as all shops firmly closed – except Boots where I found a bargain box of Sushi for £1.00. It never seems quite right to buy food from the same place as once might buy corn plasters or condoms but I was starving.
11:20AM: Horatio's Garden, Scotland is glinting in the sunshine. Fresh birch leaves, loads of Narcissii, Fritillaries en fete etc etc etc. The best thing though is seeing Sallie and the other volunteers, to see patients picking flowers in the woodland and everybody happy.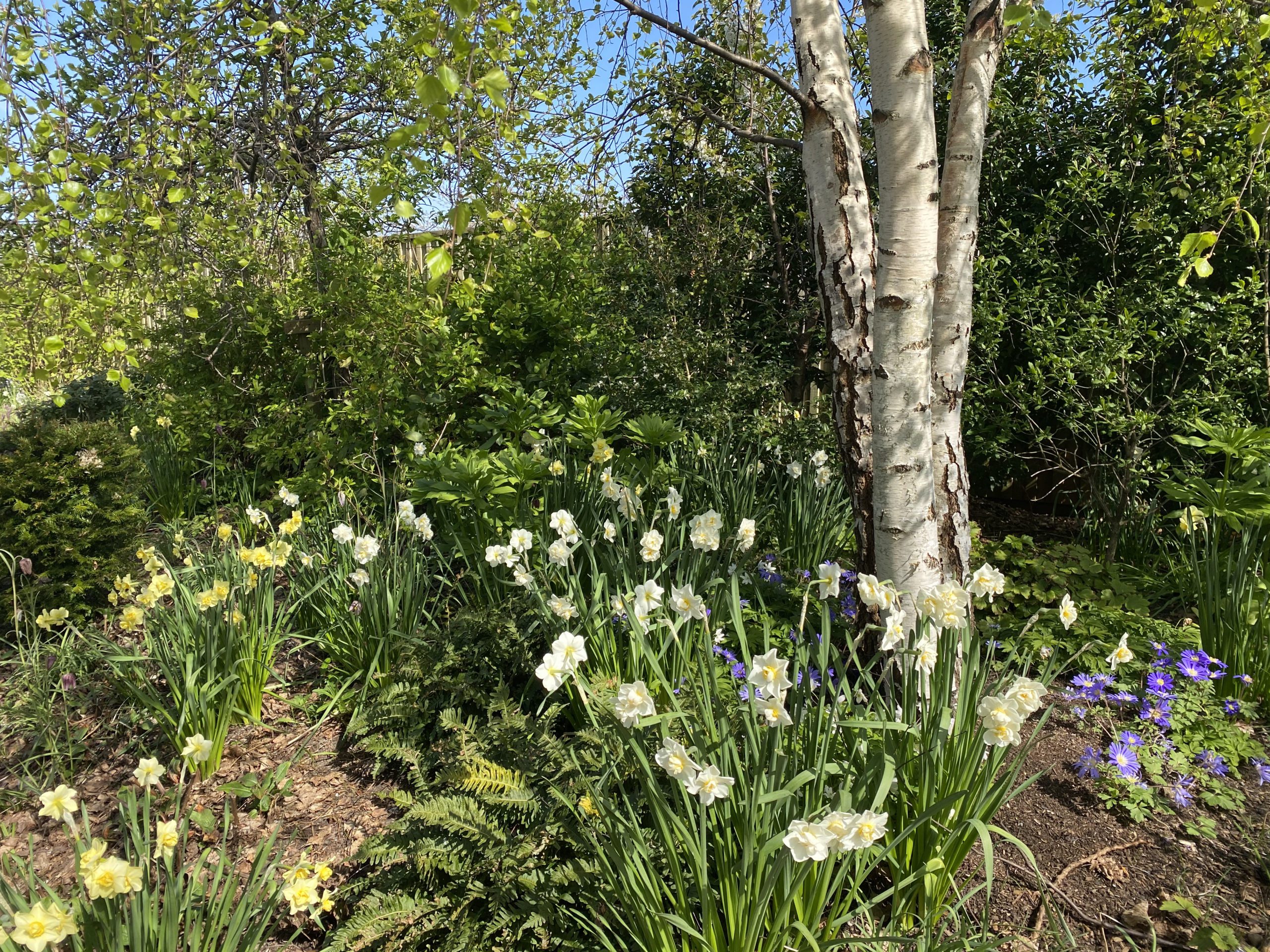 5:00PM: I am back at the station where I am greeted by some extremely stoned people lying on the ground and doing a lot of shouting. Nothing like a bit of local colour. I am given an Afternoon Snack box which is considerably weirder than ther breakfast offering – it contains a fruit scone and some chicken pate.
7:30PM: The Lake District is still sparkling as we trundle south finally ending up at Milton Keynes at about 11:00PM which, if I am honest, does not sparkle much although that might just be me as it has been a very long day… only another hour's driving before bed.
I was listening earlier to Just A Minute. The top picture is Tulip Slawa
for some unfathomable reason spellcheck decided that at this point I was not writing the simple word "last" but "lasagna".
for those unfamiliar with this – it is a Scottish cake traditionally served to first footers at Hogmanay. It is basically a fruit cake wrapped in pastry because (obviously) a fruit cake on its own will not provide enough saturated fat.